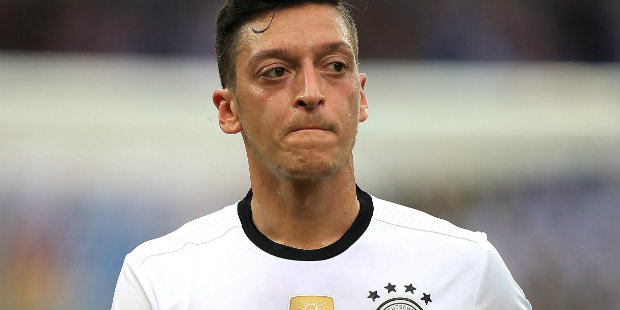 © Mike Egerton/PA Wire
Anti-discrimination charity Kick It Out has described the "racist treatment" Mesut Ozil has faced in Germany after his country's early exit from the World Cup as "disgraceful".
In a statement released online, Kick It Out said it was "extremely disappointed" by the abuse and harsh criticism the 29-year-old has faced and revealed that it has contacted his club Arsenal to offer him its support.
"Mesut Ozil has been treated disgracefully and… those who have driven him to consider international retirement should be ashamed of themselves and his case should encourage all of football to reflect on how the game treats footballers from mixed heritage backgrounds," it said.
Bayern Munich president Uli Hoeness has accused Ozil of producing bad performances for Germany for years after the Arsenal midfielder announced his retirement from international football.
Ozil, 29, won the World Cup with Germany four years ago, but was also part of Joachim Low's squad which failed to progress from the group stages of the 2018 tournament in Russia.
In a lengthy statement posted on Twitter on Sunday evening, Ozil – a third-generation Turkish-German who was born in Gelsenkirchen – accused the German Football Association of treating him with "racism and disrespect".
Ozil claimed German FA (DFB) chiefs wanted him "out of the team" before the tournament, due to the emergence of a photograph featuring him with Turkey's president Recep Tayyip Erdogan.
The picture led to criticism of Ozil in Germany. According to the player, only the intervention of head coach Low and team manager Oliver Bierhoff ensured he would then take part at the World Cup.
Ozil, who won 92 caps for Germany, also revealed he and his family had received hate mail and threatening phone calls and been subjected to social media abuse.
Nevertheless, Bayern president Hoeness, who won the World Cup with West Germany in 1974, found little sympathy with the midfielder when asked for his views on Ozil's decision.
Quoted by German newspaper Bild, Hoeness said: "I'm glad this nightmare is over. He has been playing crap for years.
"The last tackle he won was before the 2014 World Cup – and now he is hiding himself and his poor performances behind this photo."
Hoeness also hit out at the support shown to Ozil on social media following Sunday's announcement.
"His 35million followers, that of course do not actually exist in the real world, believe that Ozil has played exceptionally when he successfully finds his man with a square ball."
Arsenal team-mate Hector Bellerin, however, offered full backing to Ozil, who is away with the Gunners squad on a pre-season tour to Singapore.
The defender wrote on Twitter: "Surreal that someone who has done so much for his country on and off the pitch has been treated with such disrespect.
"Well done @MesutOzil1088 for standing up to this behaviour!"
The DFB has yet to make any official comment.